What's the big deal about a little Jew hatred and misogyny as long as it comes from a leftist comedian?
Posted: April 1, 2015
Filed under: Charles "Icarus" Johnson, Little Green Footballs
| Tags: Madeline Berg, Trevor Noah
91 Comments
Too bad Trevor Noah is not a "wingnut" –  if he were then a certain embittered, corpulent,  unemployed, welfare supported former musician would then be all over this. Surprisingly the Fat Fuck has nothing to say about Trevor Noah.
Appointed 'Daily Show' Host Trevor Noah's Tweets On Women Are More Than A Laughing Matter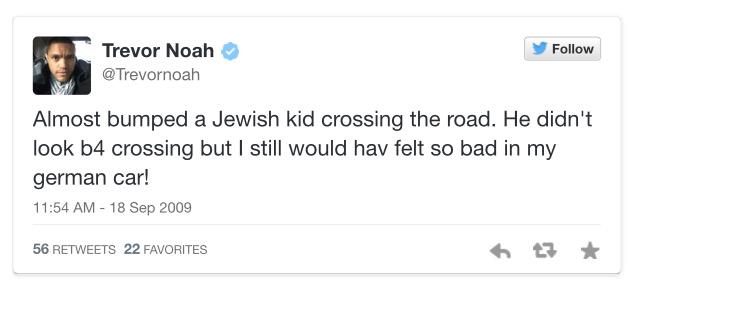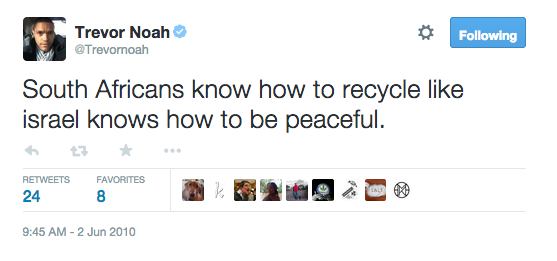 by Madeline Berg

As anyone who tuned into the Justin Bieber roast on Monday night will tell you, part of a comedian's job is to ridicule. Whether making fun of others — like every comedian who poked fun at Justin, his fans and his family — or themselves — Martha Stewart notably laughed at herself for going to prison — comedians thrive on mockery, often playing on stereotypes, be it those of Canadians, white trash or wealthy people and mishandling money. A large part of a funny person's success is based off of his or her ability to walk the thin line between offensive and humorous.

So it is no surprise that in looking back at the work of newly appointed Daily Show Host Trevor Noah, one can find many instances in which people or stereotyped groups are the butt of his jokes. It is these jokes that got him in trouble earlier today — just one day after he was announced as Jon Stewart's replacement.

In today's social media obsessed culture, every comment and passing remark is scrutinized, particularly those of a relatively unknown figure like Noah. It is thus no surprise that it only took 24 hours to unearth jokes on Noah's Twitter that could easily be deemed offensive, specifically those aimed at Jews and women. And though they were almost surely meant in jest, Noah must be careful with these one-liners — particularly those involving women.

In a 2009 tweet recounting a driving incident in which he almost hit a Jew, Noah mentioned his German car — a reference to the Holocaust that many would find insensitive, if not outright offensive. And a 2014 jab referring to the common Jewish stereotype of greedy financier received a flood of replies accusing him of anti-Semitism.

The jokes touching on women ranged from those about appearance — one made fun of fat women only being attractive when the onlooker is drunk — to sexual stereotypes of Jewish and white women (the latter was deleted, but referenced the rarity of "riding" a "white woman with an ass").

Of course, Noah is taking heat for these tweets, with some calling for him to be fired before his job begins and others warning him that his new position brings with it a certain level of responsibility.

And while the former suggestion that he should be fired is extreme, the latter offers advice that the comedian should welcome. In his field of work, it is of prime importance to learn the limits an audience places on you and the line an audience draws between funny and offensive.

We are often reminded of how this line can seem blurry and that what may seem humorous in one's mind becomes insulting as soon as it leaves his or her lips. The recent Fashion Police incident serves as a prime example: While Giuliana Rancic almost certainly only wanted to induce laughs when she commented that Disney star Zendaya, who wore dreadlocks, probably "smell(ed) like patchouli oil" or "weed," the comments were taken as racist and disrespectful.

Similar comments may have been okay for Joan Rivers to say — the long-time comic was known for her self-deprecation and biting style of humor — but when uttered by Rancic — who is not known as a famous comedian or particularly well-respected for her funniness — they came off as offensive and evidenced her lack of understanding of the boundaries of comedy.

Likewise, Stewart, a known Jew, could have easily gotten away with the comments Noah made about Jews, but because audiences are not yet familiar with Noah's comedic attitude towards Jewish people, they can come off as offensive.

What is more worrisome is Noah's comments about women, as this is an area in which, as a comedian, he should know to be more careful. Women are dangerously underrepresented in comedy, and, until recently, certain types of humor, particularly those of the vulgar variety, still seemed taboo to female comedians.

Since 1959, only three women have ever won the Grammy Award for Best Comedy Album (Kathy Griffin, Whoopi Goldberg and Lily Tomlin), and the late night line up is sadly lacking comediennes, particularly with the departure of Chelsea Handler from E!. Until the mid-90′s, SNL noticeably lacked female talent other than original cast members Gilda Radnor and Jane Curtin. Even successful shows revolving around the female comedian often require women helping women — take Broad City, for example, which can largely credit its mainstream success to being taken under Amy Poehler's wing.

These problems are finally starting to be discussed and addressed. In fact, many called for Stewart to be replaced by a woman.

Already famous female comedians seem to be becoming more prominent: Sarah Silverman has been receiving quite a bit of press recently, including a New Yorker profile last summer, and Tina Fey and Amy Poehler have easily become household names to rival the likes of Will Ferrell and Chris Rock. The up-and-coming comedic set seems to have a female to male ratio that is improving, with women taking up 20 spots on New York Magazine's list of "50 Comedians You Should Know in 2015."

Still, there is work to be done. And as a member of the comedic community, Noah should be doing all in his power to foster an environment that embraces women for their wit, humor and intelligence, not one that stereotypes them or reduces them to their physical appearances. Until real equality is reached in the world of comedy, he should promote women, not demean them.

There are many reasons why Noah is a great choice for Stewart's replacement, and a few tweets sent in passing should by no means overshadow that. As Comedy Central said in its statement on the controversy, "To judge him or his comedy based on a handful of jokes is unfair."

He has proven himself smart and funny, and his perspective as a non-American will offer a refreshing take on both domestic politics and world news events. He may appeal to a younger and more diverse audience than Jon Stewart and will hopefully bring some creativity to the somewhat tired format of the program.

That being said, he is entering a position of responsibility. Whether he likes it or not, many Americans will use his show as a primary news source, and his commentary will shape how they view events. His comments will have more weight than those of the average comedian, and until women in comedy have the respect they deserve, he should use his authority to help them achieve that.
---